Root Doctor
Change Our Ways
Big-O (2007) 2407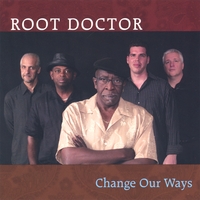 10 tracks, 53 minutes. Recommended. If you haven't yet been diagnosed and treated by
Root Doctor
, you're overdue for a dose of musical medication, and
Change Our Ways
is a stirring remedy. With a half-dozen originals and four well-chosen covers, they prove themselves to be potent once again on a great mix of soul-inspired blues. The Temptations'
I Wish It Would Rain
, Roy Hightower's
Root Doctor
and Warren Haynes'
Soulshine
are all sizzling reworkings with Freddie Cunningham's powerful voice leading the charge as the band provides stellar support behind. Of the self-penned tracks,
Blues Will Take Good Care Of You, Keep Our Business Off The Streets
and
Lucky One
are solid barnburners. The title track,
Change Our Ways
, is a monstrous original offering gritty, real-world lyrics and a masterful, tension-filled arrangement. Greg Nagy's guitar work throughout is inspired, tasteful and confident, with Jim Alfredson's keyboard efforts bubbling over, under and around, adding lots of spice. The rhythm section of James Williams and Rick Bole delivers the hefty grooves with plenty of authority, and The Motor City Horns step in for a few, including a crackling version of The Meters'
People Say
. Peter 'Madcat' Ruth hands in harmonica on one and the vocal harmonies from front to back (whether by the band members or backing vocalists) are superb. The quintet's maiden voyage from 2006 was a standout, but they've managed to raise the bar with
Change Our Ways
. Let's just hope the title of their new disc isn't about changing their direction in music. A top-shelf piece of work deserving attention from anyone claiming to enjoy blues.
Big-O Records
© 2008 by
Craig Ruskey