Here are a couple more and there's plenty on tap.
Memphis Slim & Buddy Guy
Southside Reunion
Sunnyside (2007) SSC3053
10 tracks, 46 minutes, highly recommended. This reviewer pleads ignorance to any other CD release of this session aside from a large, round 12" vinyl disc housed among a ton of other cardboard-jacketed vinyl albums bearing the name of
Memphis Slim
. The reason for the explanation is simple. When looking at the track listing for this CD and seeing its ten tracks (with a pair of them being of the 'bonus' sort), an alarm rang in the cranial cavity. Sure enough, the LP also showed ten tracks, which meant a pair had been substituted. While it's not meant as nitpicking, it doesn't seem that
It Ain't Nothing But A Texas Boogie On A Harpsichord
or
It Ain't Nothing But A New Orleans Boogie On That Same Harpsichord
would have been much of a bother to leave in from the album's original issue. Those two dandies account for less than three minutes. Blues fans today must not have an interest in old piano players doing boogies on harpsichords - go figure. Nevertheless, this is a stunning outing dating back to 1970 featuring both
Memphis Slim & Buddy Guy
with additional support from Junior Wells on harmonica, Phil Guy on second guitar, Ernest Johnson's bass, Roosevelt Shaw's drumming, and saxophone from both A.C. Reed and Jimmy Conley. Do these Chicago veterans spell it out clearly enough? Recorded in Paris, this aggregation still managed the sound and feel of a lowdown Chicago session at midnight fueled with a few quarts of brown liquor, cigarettes, and deep blues. Slim is huge, Buddy is smoldering with the vintage and well-beaten Strat many of us miss nowadays, and brother Phil hands in a couple of ringing solos as well. Junior is tough and tender on harp and the remaining characters deliver that great combination of tight-yet-loose backing so many blues sessions are missing these days. Whether it's
You Called Me At Last, Rolling And Tumbling
(although credited to Muddy this is a slow blues and quite different than the more familiar song of the same name),
How Long Blues
, the two versions of
You're The One
(not the Jimmy Rogers chestnut) or anything else included, you won't be disappointed. This session was a spirited and blistering blues outing, but there's still a gnawing in the recesses of the brain wondering why Memphis Slim's pair of harpsichord offerings were left out.
(I attempted to link the review with a website but came up with a load of mumbo-jumbo - not to mention French - which I don't understand. This disc is widely available through your local music stores or online retailers.)
Tom Holland & The Shuffle Kings
Tom Holland & The Shuffle Kings
Shuffle King Productions (2003)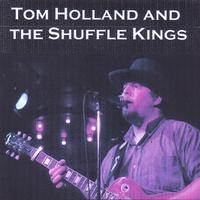 7 tracks, 35 minutes, excellent.
Tom Holland
's name should be recognized fairly quickly among those taking up residence in and around the Windy City of Chicago, and having played across the country with the number of blues greats he has, it's possible he'll ring a bell among many. While this thirty-five minute disc dates back a few years, it's definitely a meaty guitar outing and still available through CD Baby. Holland is a tough player in the Chicago tradition, clearly evident on each of the tracks here, and he shows a wide range of influences along with a defined originality that keeps the playing fresh and interesting. He digs into some heavy slide (by way of Muddy) for the slow and brooding
Keep On Playing
and laces the bouncing
Zeb's Blues
with plenty of Earl Hooker licks.
Worry And Wonder
and
Don't Know Why
, both in the familiar Chicago shuffle style (think Eddie Taylor) are plenty interesting, but they become an overly long nine-minute romp when stacked one after the other on the disc. As a vocalist, Holland possesses some strong pipes and shows them to good effect on the funky
Treat A Dog
, and the Elmore James classic,
Yonder Wall
. His accomplices, Kevin Shanahan (rhythm guitar), Pat McKeever (bass), and Greg Haar (drums) do a bang-up job providing the solid and rhythmic grooves, but without any harmonica or keyboards to flesh out the session, there's a sameness to what's here - just don't take that as a demerit. If ringing, electric Chicago Blues guitar from start to finish is up your alley,
Tom Holland & The Shuffle Kings
will fill the bill. Let's hope there's more in the works... when you're doing Magic Sam, Otis Rush, Muddy, Elmore and others proud, you need to be making records.
Tom Holland & The Shuffle Kings
© 2007 by Craig Ruskey