Terry "Big T" Williams & Wesley "Junebug" Jefferson
Meet Me In The Cotton Field
Broke & Hungry (2007) BH 13003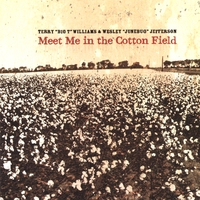 11 tracks, 46 minutes, highly recommended. Listeners will indeed be hard-pressed to find anything more real than the sounds of
Meet Me In The Cotton Field
from
Terry "Big T" Williams & Wesley "Junebug" Jefferson
. Blues music encompasses an awful big piece of real estate these days with the retro approach, the blues-rockers, the shouters, crooners and so much more, but the honest-to-goodness, real deal, lowdown, kick-you-in-the-ass blues has very few outlets in the here and now. Thankfully, Jeff Konkel's Broke & Hungry imprint is continuing to showcase a selection of artists every blues fan would be well-served listening to. Williams and Jefferson don't wear vintage clothing, they don't go in for tweed-covered boutique amplifiers or vintage instruments, and they don't need the approval of Joe Q. Public to keep doing what they do best and that's laying down some of the most unaffected blues you're likely to hear anytime soon. From Junebug's stirring acapella versions of
Meet Me In The Bottom
and
Blues Is Like The River
to Big T's gutbucket reading of
Incarcerated Blues
or Muddy's
Can't Be Satisfied
, this pair delivers the goods for three-quarters of an hour. We'd all do well to thank Jeff Konkel for taking the bull by the horns and seeing to it that this art isn't left only for those close enough to the Mississippi juke joints he finds his gems in. Incredibly raw, stripped-down and powerful.
Broke & Hungry Records
Harmonica Mac & The Groovecats
Wake Up Lil' Mama... it's Harmonica Mac & The Groovecats
Self-produced CD (2007)
14 tracks, 67 minutes, excellent. It's a true pleasure getting material of this sort in the mail. While folks on the US side of the big pond may not have a chance to see this band 'live' anytime soon, those holding residence in the UK should be in for a treat. The Groovecats are led by Ian McInally, whose harp and vocal work is squarely rooted in the immediate Post-war era of Chicago and the West Coast, and as Harmonica Mac he gets plenty of solid backing from his Groovecats; Kevin Parr (guitar), Lovat "Houndog" Fraser (bass), and Andrew "Kid" Davidson (drums). Four of the disc's fourteen tracks are band originals and the crew acquits themselves especially well on
That Crazy Woman
, which comes straight out of Chicago's southside where McInally berates his woman for not liking Sonny Boy - heady stuff! Mac's own
Dancin' Girl
and the instrumental
Crazy Chrom
hold up well next to solid readings of Little Walter's
Too Late
and
My Babe
, Sonny Boy's
Mighty Long Time
, and a trio of George Smith tracks;
Red Dress, Oopin' Doopin' Doopin'
and
Soul Feet
. Like many initial releases from blues bands today, the Groovecats want their talent to shine across the board, and a better way to accomplish that on their next project is to avoid the overly common practice of too many songs featuring both harmonica and guitar solos. The strengths present in Mac's harp work and Parr's guitar playing both stand well enough on their own. As a rhythm section, Fraser and Davidson are tighter than a frog's booty (as Muddy used to say).
Harmonica Mac & The Groovecats
turn in a strong first effort and here's hoping their sophomore release (in the works) will deliver even more.
Email:
Info@thegroovecats.co.uk
© 2007 by Craig Ruskey