There's more on the way. In the meantime, check out what the Broke & Hungry label has to offer.
Odell Harris
Searching For Odell Harris
Broke & Hungry (2006) 13002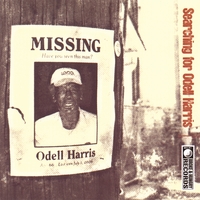 12 tracks, 40 minutes, highly recommended. If this CD had a paltry four-minutes-and-thirty-eight seconds of music it would still be worth its suggested retail price based on producer Jeff Konkel's liner notes. Thankfully, there's forty minutes of pure, undistilled, stripped-down, grinding, raw, slippery, nasty, blues included. In short, it's a bargain and then some in today's high-priced world.
Odell Harris
seems to be as elusive as Robert Nighthawk was in his day; turning up unannounced at the occasional juke joint or house party in the Hill Country of North Mississippi, plugging in his guitar to deliver some shattering blues, only to disappear shortly thereafter. The stars and planets were almost perfectly aligned for this planned recording date even though Harris isn't known for keeping his appointments. The session took place in a small joint and there were at least a few patrons who refused to vacate. Fearing the worst, the producer pressed ahead and wound up with a remarkable document of modern blues. Bill Abel (guitar) and Lightnin' Malcolm (bass & drums) were definitely in Odell's zone. The tuning isn't always perfect, the time wobbles according to Harris' whims, and it's as loose as a prostitute down to her last dollar - but that's what makes it so irresistibly funky. No over-production, no punched-in notes, no after-thought additions. If the stars and planets were aligned that night, it's a safe bet the earth itself slipped off its axis by a few degrees when the session concluded the following morning. Simply put, this disc defies accurate and justly descriptive terms, and no amount of attempted creativity will resolve that. Leave the discovery for yourself and go
Searching For Odell Harris
... and if you manage to locate him, please call Jeff Konkel immediately!
Jimmy "Duck" Holmes
Back To Bentonia
Broke & Hungry (2006) 13001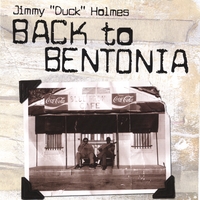 11 tracks, 39 minutes, highly recommended. While blues isn't exactly experiencing a renaissance, there's still a lot to be hopeful for, and one listen to the archaic brilliance of
Back To Bentonia
should prove that in spades. Remember when your favorite labels were putting out honest-to-goodness blues that meant something? The Broke & Hungry label has picked up the dropped-and-dimming torch, refueled the fire, and while their banner may be small - it's truly mighty. Many thought the 'Bentonia School' of blues ended with Skip James, others concluded that Jack Owens was a clear extension of his predecessor who took the style to his grave in 1997, and now we have
Jimmy "Duck" Holmes
front-and-center, who truly sounds every bit as though he stepped right out of the mid-sixties blues revival. While Holmes himself is absolutely spellbinding in his approach, credit also needs to be handed to producer, Jeff Konkel. Production to him means letting the tape roll while avoiding the common practices shared by many which involve cleaning things up to make them more palatable to the masses. The true beauty in the music of
Jimmy "Duck" Holmes
is its raw nakedness. Aside from his voice and guitar, Holmes enjoys the minimal assistance of Bud Spires on harmonica for
I'd Rather Be The Devil, Count The Days I'm Gone
, and
Your Buggy Don't Ride Like Mine
(which features Spires' earthy voice), and Sam Carr providing drums on
Cool Water, Vicksburg Blues
, and
Duck's Shuffle
. If your favorite blues label gave up putting out 'real' music, the Broke & Hungry imprint should satisfy your appetite with
Back To Bentonia
from
Jimmy "Duck" Holmes
, and don't forget the folks at Broke & Hungry are still
Searching For Odell Harris
. This is blues as it's meant to be; its pure and natural beauty preserved for this and future generations to enjoy. Let's hope this fine label continues making noise by expanding their blues catalog soon.
Broke & Hungry Records
© 2007 by Craig Ruskey