A King, some B.B.'s and more...
Posted:
Wed Jan 03, 2007 7:19 pm
There's more on the way as I make my way through the pile of review material that landed here over the past few months. Sorry for the late turn on the reviews but with my slow season here I should catch up shortly. As always, thank you for reading and offering your thoughts. Stay tuned but enjoy these in the meantime...
B.B. & The Blues Shacks
Live At Vier Linden
Crosscut (2006) 11088
11 tracks, 61 minutes - recommended. Whether you label them as a retro blues outfit, a jump blues band, or a modern R&B quintet from Germany hopelessly stuck in a timewarp,
B.B. & The Blues Shacks
command attention, and as much as individual talent is across the board, it's the sum of all parts that makes them one of the finest aggregations playing vintage blues today. Andreas Arlt's guitar oozes brilliance on the opener
Hot Shot Bop
and brother Michael Arlt's harp playing is soaked in the swamps of Louisiana for
She's Got Her Eyes On Me
as much as the toughness of southside Chicago for
Ain't A Home No More
, and as a singer, he's convincing with a powerful voice. The piano of Dennis Koeckstadt, the upright bass from Henning Hauerken, and Andreas Bock's drumming push the rhythms tirelessly from start to finish no matter if it's a blistering swing number like
Stompin' And Rollin'
that blends ever-so-smoothly into the sweltering slow blues of
Good Night's Sleep
with more of Andreas Arlt's smoldering guitar. Recorded 'live' in front of an enthusiastic hometown crowd, these guys are all business. Superb and tight.
Crosscut Records
MEMO GONZALEZ & The Bluescasters
Live In The UK
Crosscut (2006) 11092
13 tracks, 62 minutes - excellent. If you like your blues with a little bit more of a roadhouse edge
Memo Gonzalez & The Bluescasters
should surely fit the bill. Gonzalez is a potent singer and expressive harp player with a long list of credits, and while his band may not garner the accolades they deserve, it surely isn't from lack of effort, drive or versatility - perhaps it's because Gonzalez himself is one of the biggest frontmen in the business. Kai Strauss' guitar work, whether the infrequently used baritone sort heard on
I've Been Thinking
or the soul-drenched Stratocaster-wielding in
Greyhound
, is delivered with as much taste as it is with reckless abandon. The engine-like rhythm section finds Erkan Özdemir handling the low end on the Kay bass guitar with Klaus Schnirring propelling the beats from behind the drumkit. Junior Parker's
I Wanna Ramble
and T-Bone Walker's
Tell Me What's The Reason
show the band's ability to traverse the blues landscape without a hitch and the originals sit comfortably with time-tested covers. Great stuff.
Crosscut Records
RORY GALLAGHER
Live At Montreux
Eagle Eye (2006) 39043
DVD (2 discs), 36 tracks, 274 minutes - highly recommended. Whether or not you consider
Rory Gallagher
to have been a rocker, a blues guitarist, or a blues-rocker, his passion for blues was at the core of everything he played and he was an artist who lived to play. This astounding chronicle of Gallagher's performances at Montreux (a total of five times) dates back to his initial appearance in 1975 with five tracks;
Tattoo'd Lady, Garbage Man, Cradle Rock, Tore Down
and
Laundromat
, seven cuts from 1977;
I Take What I Want, Calling Card, Secret Agent, Bought And Sold, A Million Miles Away, Do You Read Me
and
Pistol Slapper Blues
, another five from 1979;
Shin Kicker, Last Of The Independents, Mississippi Sheiks, Too Much Alcohol
, and
Shadowplay
, plus a 1985 performance where Gallagher satisfies the crowd with
Bad Penny, Moonchild, Banker's Blues, Philby
, and
Big Guns
. Disc two begins with Rory's entire 1994 show where he puts forth
I Wonder Who, I Could Have Had Religion, Out On The Western Plain
, and
Ghost Blues
among others, and the bonus footage is comprised of more tracks dating from the '75, '77, and '85 shows. While it's a bit disheartening to see Rory Gallagher's health in obvious decline during his 1994 concert, he could still play the dickens out of his guitar, and it's pleasure to have four-and-a-half hours of the inspiring Irishman in his element doing what he loved; whether revving things up with the different bands showcased or sitting alone on stage playing acoustically. Marvelous stuff, indeed.
Rory Gallagher At Montreux
BEN BOWEN KING
Sidewalk Saints
Talking Taco (2006) TT153D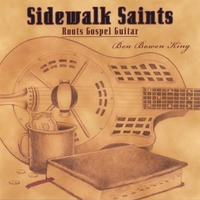 14 tracks, 46 minutes - recommended. The name
Ben Bowen King
isn't apt to have many fans heading immediately to their favorite CD outlet but that won't lessen the impact the guitarist could have on a listener's soul as soon as they hear his playing on
Sidewalk Saints
, a disc laced from beginning to end with brilliant instrumental readings of Gospel music. King's wizard-like approach on his resonator guitar is spellbinding on such tracks as
Preacher's Hell Bound Train, Satan - Surely Your Evil Empire Will Fall Someday, Will The Circle Be Unbroken
, and
Shall We Gather At The River
and the assistance King gets from Covita Moroney 's tambourine, spoons, Coke bottles, suitcases, and bass drum only makes this disc all the more satisfying. A dying tradition the music of long-resting sidewalk saints like Blind Willie McTell and Reverend Gary Davis might be, but
Ben Bowen King
isn't going down without swinging. Riveting and beautiful!
Talking Taco Music
All discs reviewed are available from the provided links as well as at Frank Scott's
Roots & Rhythm
website.
© 2007 by Craig Ruskey