Mark Hummel's Chicago Blues Party
Posted:
Fri Aug 06, 2010 8:02 pm
Various Artists
Mark Hummel's Chicago Blues Party
Mountain Top (2008) MTP-0013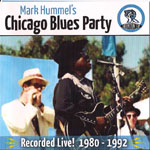 15 tracks, 75 minutes, Highly recommended. Many of you will probably be familiar with
Mark Hummel
by way of his frequent Blues Harp Meltdown shows and 'live' recordings, as they feature a bevy of current harmonica aces and a top-notch band to anchor the proceedings. This surprise is a recent and guaranteed winner in Hummel's growing catalog of work. It showcases a few past masters in the blues idiom, with the common thread being tight harp support from Hummel himself. Leading off the disc is the late Chicago guitar legend, Jimmy Rogers, whose five tracks date from late September of 1992. There are three slow blues;
Can't Keep From Worrying, Tricky Woman
and the now-classic
Ludella
, another Rogers original
You're The One
and Jimmy Reed's
Big Boss Man
. The backup band for Jimmy's expressive vocals and rhythmic guitar consists of Rusty Zinn (guitar), Tom Mahon (piano), Ronnie James (bass) and Mark Bohn (drums). Zinn and Mahon are both given ample solo space with Hummel delivering full-toned harmonica. Another past legend on this set who made Chicago his home is Eddie Taylor, also in solid form delivering the trance-like
Smokestack Lightning
, a bristling
Red Light
, the slow-walking
Sunny Road
and a somewhat chaotic yet powerful
Trouble No More
. Taylor's magnificent guitar efforts and smoky vocals garner assistance from Mississippi Johnny Waters on second guitar (who also takes the spotlight for
Dust My Broom
), Hummel's rich harp and a tight rhythm section of bass and drums. These five tracks date from September of '82. There are three additional tracks featuring Johnny Waters, two from 1980 (
Shake For Me
and
How Much More Long
) and one from '85 (
Long Distance Call
) with Luther Tucker taking the spotlight with dazzling guitar runs. Closing out the set are two more cuts with Hummel's harp and vocals supported by Tucker's classy flights. His guitar is especially riveting on the slow and brooding
Blue And Lonesome
, with chromatic harp from Hummel. Recordings of Luther Tucker are a relatively scarce commodity, and although not the best sonic examples on the disc, it's a true blessing to have a few more examples of this craftsman in top form. Aside from the last three cuts, most of this material seems to have been professionally recorded and the sound quality is quite good. Considering that Jimmy Rogers, Eddie Taylor, Mississippi Johnny Waters and Luther Tucker are no longer with us,
Mark Hummel's Chicago Blues Party
comes as a welcome surprise and should prove a great addition to anyone's blues library.
http://westcoastblues.com/cbp.htm
© 2010 by
Craig Ruskey