Well I'm at a crossroads, and would like your opinions...
Our bass player, Tom, showed up at rehearsal Sunday with a Fender CBS era silverface Musicmaster Bass amp. 2- 6V6, 1- 12AX7 and rated at 12 watts, wired point to point. The 12" speaker in it was fried so we put a vintage Jensen Special Design 12 in it that is rated for 15 watts. I took the preamp down to 70% with a 12AT7 and plugged in with my dynamic Shaker.
Man, this thing absolutely sings! Nice horn like brown tones and the bottom that only a 12 can provide. It does have a bit of a tendency to feedback, I tried a 40% preamp signal with a 12AY7 and that produced a loud hum, probably because it only has a single tube preamp. Those of you that read this forum, know that I have drooled over Fender Princetons for years and this amp has a very similar circuit, the same wattage but with a 12 in speaker instead of a 10. I've never blown through a 12 as all four of my amps had either an 8, 6X9s, or 10s.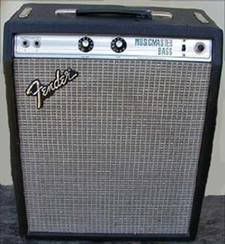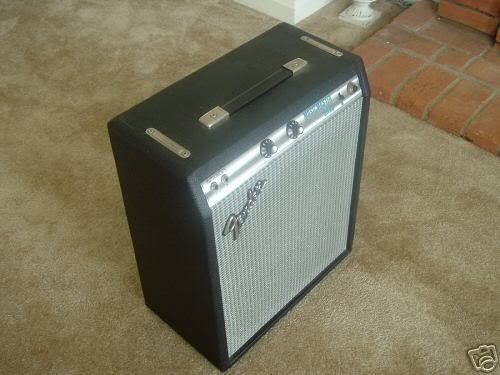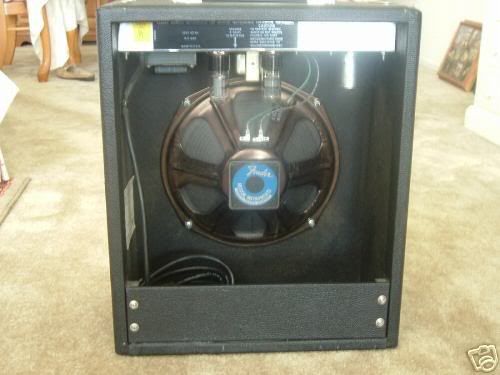 I borrowed these pics from an identical amp that is on E Bay right now, the one I have is not nearly as mint, it was left uncovered in a garage for years. Here's the dilema. Tom has been shopping for an all tube bass rig and is interested in my RI Bassman. Maybe as a possible trade for the Musicmaster plus a considerable amount of cash. I've only gigged with the Bassman a handful of times in 4 years as it is just too loud and clean for my tastes. I've tried every conceivable combination of preamp tubes and microphones. The one time I got a great tone was at a festival at the Airport a couple years ago when I could really crank it. Although the 45 watts are nice, it's heavy and I just prefer the harp tone of less watts I reckon. Additionally, I don't expect to be playing at the Airport very often.
My Lectrolab 18 watt, 2- 6X9 has been my main stage amp for the last year and a half. I'm going to take the Musicmaster to our gig this Wed night, see if it will have sufficient stage volume and if I can stand and play within several feet of it without feedback problems. I should add that my '65 Champ is identical in width and they look great in a stack together.
The real kicker is that my van is in the shop right now for extensive repairs and the timing for an influx of cash would be good. I know you can mod a Bassman for harp but guys like BBQ Bob and Kim Wilson say they still don't approach a real 59 Bassman. Tom took the Bassman to a gig with his other band last night for a test drive, I'll see and hear from him tomorrow night. To say the least I am torn...this should all wash out in a couple days...I'll know more by Thursday.
Thanks for bearing with this long, sordid, tale!
Bosco