[updated:LAST EDITED ON Feb-26-06 AT 09:47 PM (EST)]I was recording today with my tokai 335 copy, and the black cat mojo guitar called me. I didn't want to listen. It was in the closet, and in the case. Well, the tokai busted the top e string, so I got out the Black Cat Mojo Guitar. This is truly a magical guitar, with the action set up like a lap steel. I use a big socket extension as a slide. These 2 came out. I was walking the bass line as I picked the lead, and the snare drum was reverberating as I hit it, giving the song a kind of delay. Anyway, this guitar plays itself. Walter
http://www.soundclick.com/bands/pageart ... dID=157137
PS: I don't know what others will think, but these are some of my favorite songs to date.
Here is the true story of this amazing guitar:
The black cat mojo guitar was given to me by Paul Sessoms, the owner of the black cat lounge in austin, Tx, when Judy and I moved in 96 to California. Will and Charlie Sexton had set up a few weekends of gigs for me at Stubbs BBQ, to serve as a going away party for us. I had Ken Cooke, who joined my band as an eager teenager, on drums(James Harman is his best known gig), Mike Vernon on bass(guitarist/band leader of 3 balls of Fire), Will Sexton on bass, Charlie on guitar and as soundman, and Marc Rubenstien on Accordian. Lots of musicians came out and sat in over those 3 weekends. One night, Paul Sessoms walked in with his wife, a painting, and a guitar case. Paul always was giving guitars away to musicians that played his club. I played there for almost 10 years, and more frequently than anyone, yet he never gave me anything but a hard time. He was always telling me to fire my band, put a mic under a rug that I would tap on with my feet, and play solo. If I did this, he would book me 7 nights a week. I was into my trio set up, so never did it. If now was then, I would be doing the one man band Paul made many predictions to me, about my future. The one man band set up was just one of many. As with all his predictions, I thought him nuts.
He would often tell me I was the worst musician to ever play his club, but the only real artist to. He said I played like an old nigg*r. He said that was a rare thing, and my main problem was my over concern with pleasing the audience. Again I thought him nuts. Again he was right. THis was the first time a musical community accepted me, and man was I knee deep in good stuff in Austin!
Anyway, When he came in, he opened the case and put the picture on the stage. The photo, was one of his wife's Roberta's famous watercolors, that look like a real photo. They are that lifelike. He had her paint the musicians he really liked, who played the club. They were framed and on the walls of the club, and did tours of places to eat in Austin. I remember seeing my photo over where I sat and ate breakfast with Jimmie Vaughn, at Trudys South, near Ray Hennings Music store. Nobody ever bought mine, and they gave it to me as a going away present.
Then came the guitar. Man, I never saw anything like it. Paul said he had it made by a mojo man, especially for me. He was more excited than I had ever seen him. He wanted me to play it, and man, did I want to. I plugged it in and it just crackled and popped, and would not go in tune. I gave it to Charlie to figure out. He fiddled with it for awhile and gave it back to me, and said it was a piece of junk, and to just hang it on the wall. Paul was pissed.
Fast forward in time to about 2000 or so. Mike Vernon called me to let me know Paul had died. He had bought up an entire little town, on the gulf, called Polacious(sp?). It was an old WWII military base. My father trained there as an anti aircraft gunnery instructor. The few remaining buildings were renamed PAUL TOWN. Paul was the mayor, sheriif, and everything else. He was fixing the places up, and was going to bring down the best austin bands. Anything would go, and anyone who remembers Paul, it could never get too wild! He was driving back to austin, when his van flipped and he was killed. That was Paul. He was always doing new, and often laughed at by all, things. He really inspired me on this level.
I pulled out the guitar, and for some reason, plugged it in. It was in perfect tune, and sounded great through my amp. I had not even opened the case since that night at stubbs.
Then I posted my smiling with hope foundation website. That same day, Mike called me again, to tell me the black cat burned to the ground, and all the music memorillbelia inside burned too. Now all that was left is the this guitar.
If you read the spell, you will see how Paul predicted my foundation, and self recording endevour. When he handed me those papers, again, I thought he was nuts. I started recording 3 years ago with a mini disc, and instead of late night tv, I used the internet. I have my own studio now, where I am inspired all the time to play, and a mobile recording set up too. Paul often told me a real artist plays for himself, because he has to play. Whether people like it or not, is not the point. I finally am understanding what he told me night after night, and at the time, refused to listen. I play because I have to, and when I let go of the crowd pleasing angle, it gets real good, and the crowd gives me a ton of energy, which in turn I channel back.
This guitar only plays when it wants. Often I get real excited to play it for people, but if it is not calling my name, it won't go in tune and crackles and pops like crazy. But when it calls, it has to be played, and I swear, it plays itself. I was itching to play it when BC Blues was at my gig the other night, but it never called. I have a bunch of songs with it on my site below if anyone is interested. You have to sift through the songs for them.
here it is. the action is high, like a lap steel.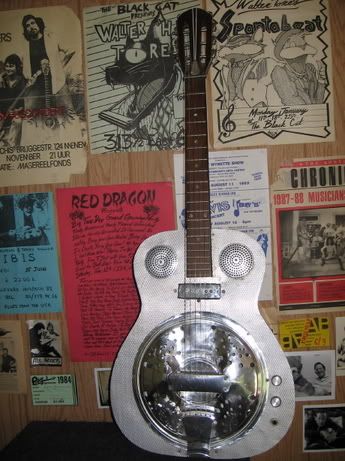 here it is in action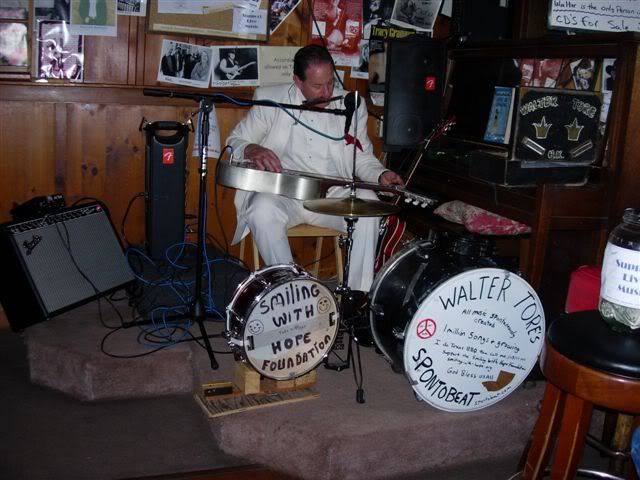 here is the case just as Paul gave it to me. I don't mess with anything on this guitar. I haven't changed the strings or anything.
here is the spell on it